Posted on | February 7, 2011 | No Comments
Santy had some hits and some misses this Christmas but the Vtech Storio was definitely the surprise and biggest hit of them all. Fionn, who is 5 years old and in Junior Infants, has just started learning to read and he loves it.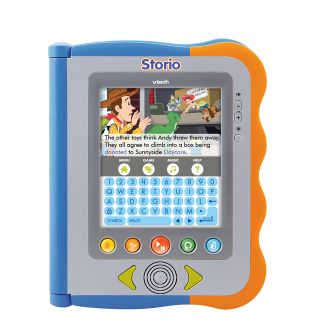 Santy brought him the Toy Story 3 ebook as he had recently seen the movie in the cinema and was ever so slightly obsessed with anything related to it.  He took to Storio like a duck to water. No problems or confusion whatsoever. The interface is very simple and there are voice prompts when needed. In "Watch the Story" mode, the story is narrated as the words being spoken are highlighted in a karaoke style.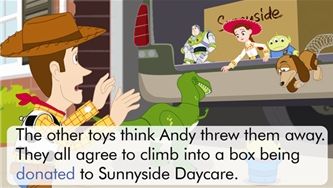 The reader can also highlight any word to get a definition of it.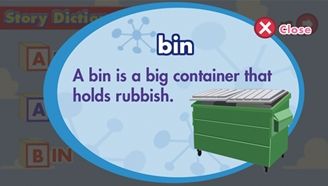 In addition to the story, there are educational word games which Fionn enjoys. The other feature of this system that I am impressed with is that additional free stories can be downloaded from the vtech website on to a SD card which slots into the Storio. So now Fionn has a range of stories to listen to and interact with.
The unit itself is fairly robust. Unlike the Nintendo DS, it has withstood the everyday rough and tumble of our home to date.
Would definitely recommend the Storio.
Posted on | January 27, 2011 | 1 Comment
Last December's Clonakilty half marathon was  good fun. Despite the morning being freezing, the atmosphere at the startline  was brilliant with music playing, runners looking forward to the off and plenty of supporters about. The run itself was enjoyable with a few hills to keep me on my toes and plenty of scenic views to keep my mind distracted.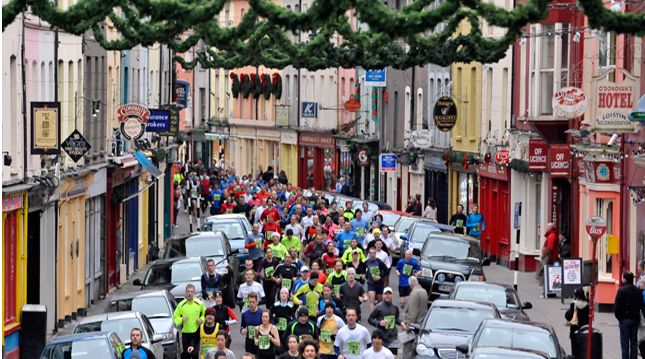 Alas since then, there has been a dearth of  running events in my calendar. I need to have a race to look forward to to keep my running motivation up, so I was delighted to hear about a few upcoming half marathons.
First is the Wild West Run which takes place on the 19th of February.  Starting at 2pm, in Kenmare and running a trail half marathon to Kilarney, along the beautiful Old Kerry way, the entry fee is €40.
The next is the inaugural Bandon Half Marathon. Bandon Athletics Club and Bandon Rugby Club are working together to organise a 10k and half marathon on the 14th May. I'm really delighted to hear about this one. Its great value for money at an entry fee of only €20. Well done to the organisers and best of luck. I will definitely, barring catastrophy, be taking part in the Bandon run.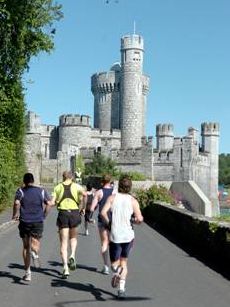 Finally, in addition to the usual Cork Marathon taking place on June 6th, the organisers have announced a half marathon race. This is a most welcome extra race for those not inclined to tackle a full marathon nor organise a relay team. It should be a great day. The online entry fee for this race ranges from €42 prior to 31/03/2011 to €62 in May 2011.
So that's me sorted for the next while. Now to put in the miles before these races…
Posted on | January 5, 2011 | No Comments
Happy New Year to all!
Lately real life has gotten in the way of blogging. I hope everyone had a lovely festive season. Our children are still off school but we've returned to Bandon after visiting Kilkenny and Cavan, both of which were without running water at times due to the icy weather and its effects. Definitely glad to return to hot running water!
In the post recently I received the following notifications which I thought may be of interest.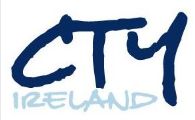 The first is the CTYI taster day  for 8 to 12 year olds to be held in DCU and UCC on the 15th of January 2011.
This is a one day event to give children a "taste" of what it is like to attend a course at one of our centres. It is to give potential students an idea of what happens on our Saturday and summer program and helps give these students an idea whether they would enjoy coming. It also gives students who already come a chance to try out new subjects.
DCU: 10.00 – 12.15pm or 1.00 to 3.15pm
UCC: 1.00 – 3.15pm
Cost is €10 per child for morning or afternoon or €20 for both DCU sessions.
Two subjects will be studied on the day and there is a good range to choose from including:
forensics and vet science
film studies and creative writing
computer animation  and science in space
architecture and astronomy
I would definitely recommend these CTYI days. Our eldest son thoroughly enjoys attending and learning about a wide variety of subjects. For further information, please contact Eleanor Cooke at eleanor.cooke@dcu.ie or 01 7008977.

The second is a free trial day at the Gaiety School of Acting.
CHILDRENS TRY FOR FREE

Have you a Saoirse Ronan or a Jaden Smith in your house? A child pestering you to let them go to drama. Here's you chance to bring them along and see what's what. This term we're running our TRY FOR FREE classes in Temple Bar, Bray, Wexford and Castleblayney.

Classes will run on Saturday 8th Jan.

Call us on (01) 6799277 for the scheduled times and to guarantee your place. Alternatively just call down on the day.

Gaiety School of Acting, Temple Bar – 4 years old – 18 years old

Mermaid Arts Centre, Bray – 7 years old – 18 years old

Wexford Arts Centre, Wexford – 6 years old – 13 years old

Iontas Arts Centre, Castleblayney – 6 years old – 13 years old
Again, I would recommend these days too as one of our children did a Saturday course in Cork with the Gaiety School of Acting a year or so ago and enjoyed it.
Posted on | November 30, 2010 | 1 Comment
The arrival of snow in Bandon yesterday happily coincided with the delivery of a Doodle bread kit and some extra shapers from Rose. Many thanks.  The children and I were weary and cold after a morning outdoors so decided to make use of the kit and bake some bread without delay.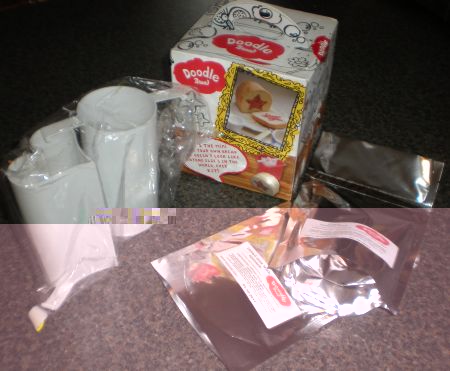 Each small kit contains:
A bread baking silicone container.
A doodle shaper, eg heart, star or circle.
A small plastic squisher.
One large bread mix, containing wheat flour, yeast, salt and sugar.
One smaller bread mix, containing wheat flour, beetroot powder, yeast, salt and sugar.
What ensued was great fun. The instructions were really straightforward and easy to follow. The children, aged 7, 5 and 4, thoroughly enjoyed the whole procedure. The kneading of the dough was especially good craic. Síofra loved bashing and stretching her dough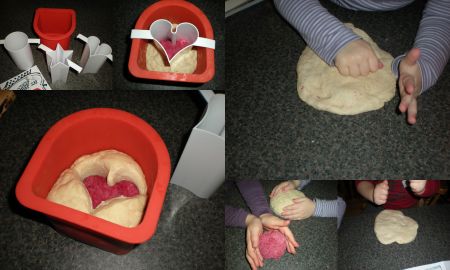 I think we probably should have added a little more water to the smaller pink dough mixture as its consistancy ended up much less pliable than the larger dough ball. Despite that, we continued on and let both doughs prove for 30 minutes or so. The plastic shaper was then carefully removed and the bread was baked in the oven for approximately 30 minutes.
Drum roollllll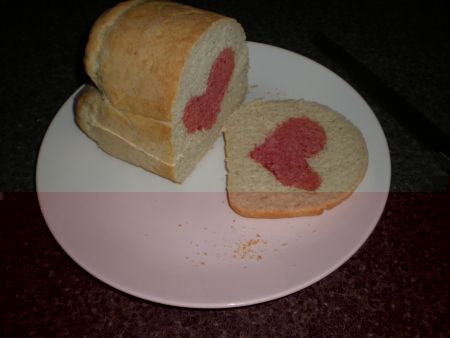 We were delighted with the result. The bread looked fabulous and tasted delicious. It was eaten pretty sharply by all of us, when still warm, with plenty of butter and jam.
To be honest, I was very surprised to see how much the children enjoyed making the bread. To date, I would usually only bake buns or scones with them. But I will now definitely be using this kit again and again. Looking forward to trying the other shapes and trying out different flavours of bread.
I have a strong suspicion that we'll love the Chocolate Vanilla Star loaf
Various  kits and accessories are available to buy on the website. Maybe a thought for an unusual but fun Christmas pressie for children of all ages.
Posted on | November 15, 2010 | No Comments
Wexworlds, Wexford town's Sci-Fi and Fantasy Fiction festival is coming back. From Friday November 26th till Sunday November 28th, a host of events for both children and adults is taking place in many venues around the town.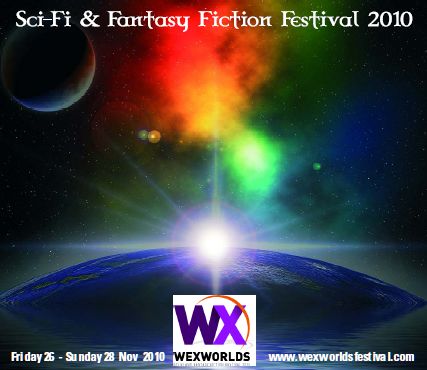 Guests include Eoin Colfer, Herbie Brennan, Andrew Donkin, Kate Thompson and Oisin McGann. There is a wide and varied programme of events, discussions, demonstrations, talks and competition which includes:
21st century career -  breaking into 2000AD and other comics
Zombie workshop -  a chance to learn and apply Zombie makeup and  monstrous moves.
Cosplay workshop – Learn some of the crafts of making costumes based on Anime and Manga creations.
The Science of Artemis Fowl with Dr Emma J. King
Poisons, pestilence and parasites  with Dr Heidi Mounsey
Lego Workshops
Superheroes and Evil Masterminds in young adult fiction
Myth and folklore in modern fiction
The downloadable pdf  is available here which describes the full programme. More information also on the Wexworlds website.  Am hoping to attend with some of my kids. It looks like it'll be very interesting and entertaining.
Posted on | October 24, 2010 | No Comments
It looks like the Irish Natural Forestry Foundation (INFF) have lined up 2 fun family Hallowe'en activity days at INFF, Manch, which is located just outside Ballineen, Co. Cork.
Running on both Saturday 30th and Sunday 31st of October from 10am to 5pm.
photo credit: shawncampbell
Hallowe'en events are as follows:
Pumpkin Olympics

Come and test your strength, guile and skill (or just have a laugh!)
Pumpkin Golf, Pumpkin Skittles, Pumpkin Shy, Pumpkin Races, Guess the name of the Pumpkin

Pumpkin Carving Competition

Bring your carved pumpkin and enter it in the competition to be judged on Sunday.

Witches String Trail

Suitable for all ages from toddlers up. Follow the trail of string and see what surprises unfold.

Orienteering for Ghouls

Dressed in your scariest Halloween costume, follow the orienteering trail, through the check points, and hope you make it back in one piece.

Show us your Brains!

Solve the themed puzzles and riddles, such as word scramble and word search.

Family Adventure Trail

Departing from the courtyard at 11am, 1pm and 3pm, through the ancient woodland, you and your family must negotiate the obstacles, including Spider's Web, Rope Walk, Slack Line plus much more.  Adjustable difficulty, so suitable for all ages.
All activities are included in the €5 entrance fee, which is a donation to INFF,  a registered charity. Family tickets are available for €15 for 1 day or €20 which includes admission for both days.
Posted on | October 23, 2010 | 2 Comments
I can't even begin to fathom the pain and loss that the death of your child must entail. It is something that no parent ever wants to experience, but unfortunately many do.  Anam Cara is a group of bereaved parents who support other bereaved parents after the loss of a child.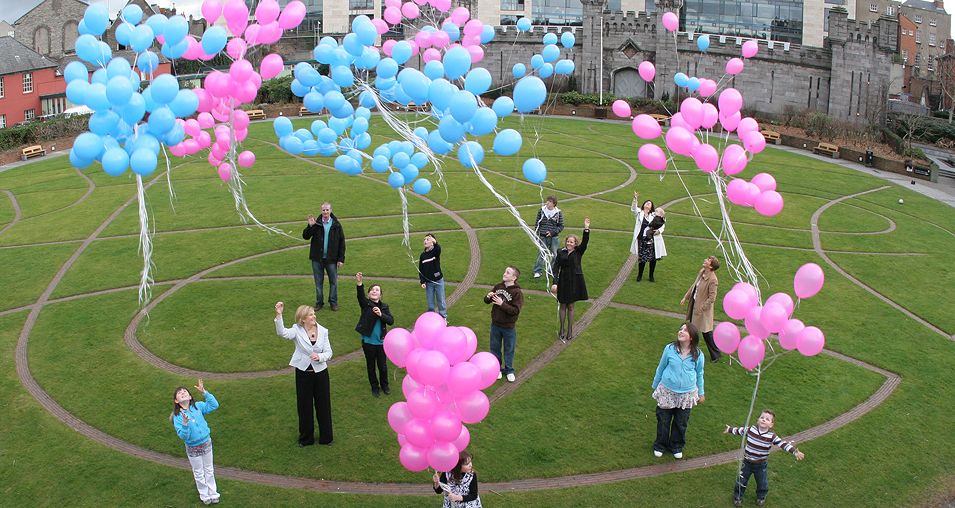 They have just launched the A Balloon to Remember awareness campaign. The campaign aims to highlight the  unique support Anam Cara provides bereaved parents.  The campaign also hopes to raise funds to further develop and extend services to families across the entire country.
For most people in Ireland, the loss of a child is impossible to understand.  But showing support for bereaved parents is simple.  The public will be able to buy A Balloon to Remember pin from various outlets including McCabe's Pharmacies, Smyth's Toy Stores, Eddie Rockets Diners, Grafton Barbers, Garvey Group and other local retail outlets. Alternatively pins and balloons can be purchased online on the Anamcara website.
The Balloon to Remember campaign culminates with a balloon release in memory of all children (young and old) who have died.  This takes place on 2nd November in Lloyd Park in Tullamore, Co. Offaly. Friends and family of those who have died can make a dedication for them in the Anam Cara Book of Remembrance on the Anamcara website.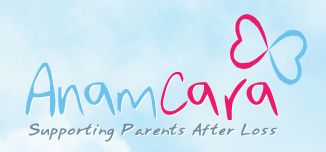 Posted on | October 22, 2010 | No Comments
Via @sabrinadent. This looks like a fun project for kids and adults alike and its free.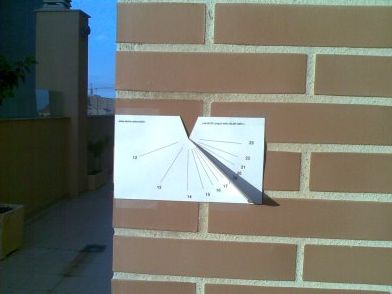 How to make your own cutout paper vertical sundial.
This page is about Sundials. Sundials are instruments that tell you the time with the shadow of the sun. To design a sundial you need to know exactly where you are going to put it, i.e. you need to know the longitude, the latitude and the orientation of the wall with respect to North.
I have designed this page and integrated Google Maps. It helps you to easily find all the parameters needed and finally produces a printable page with a cut-out paper sundial, that can be cut and folded to give you a vertical sundial.
This page allows you to make your own Cut Out Paper Vertical Sundial customized to your place on earth and the declination of the wall you are going to put it on.
All the instructions appear to be straightforward and easy to follow. Alas, we stumbled at the first hurdle as Google maps couldn't see our house. Will try it again next week when we're at a relative's house and fingers crossed it'll work.
Would love to hear if anyone else has tried it and been successful.
Posted on | October 19, 2010 | No Comments
Last week, much to the joy of my children, I received a few cartons of Ribena's new Juiced Up! to try.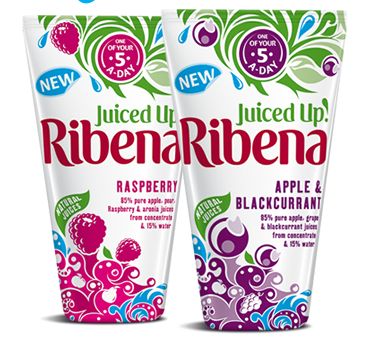 I love blackcurrants and my kids are big fans of fruit juice. They really enjoyed both flavours of this juice. They thought it tasted great and was thirst quenching and refreshing. I was happy to note the lack of additives, no added sugar, preservatives etc.  Each carton contains pure fruit juice and apparently 1 carton counts as 1 of your 5 a day. All good news.
I can see these cartons being really handy to have in the bag when we head on days out to the beach, zoo, parks etc.
Unfortunately as they appear to retail at 99c each according to the Tesco website, they are too costly for me to use for the children's everyday lunch drink: 99c x 5 children x 5 days = €24.75/week. The packaging and marketing remind me of Innocent smoothies and I presume Ribena Juiced Up! will compete rather well with these. But like the smoothies, I will probably hold off purchasing until I notice them in the supermarket at discounted prices or on offer.
Posted on | October 11, 2010 | No Comments
After the hills of Dingle, we decided our next run would be somewhere flat. A google search later, we settled on Galway bay's "fast, flat, fun and very scenic" half marathon on October 2nd.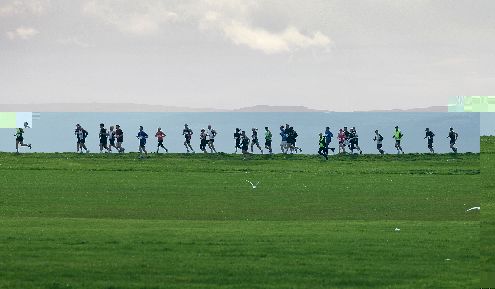 I was looking forward to this run as I thought I'd find it much easier than Dingle. However, despite completing it in a faster time, I didn't really enjoy it as much. I did like the fact that most of the route was along the salthill promenade and so close to the sea. I didn't like the full belt of the wind as we ran out the causeway. I didn't enjoy doing two laps of the same course to notch up the requisite half marathon mileage. Also I discovered that I much prefer starting a run early in the morning rather than waiting till 1pm.
I prefered the atmosphere of Dingle. I loved the music at the startline there, it got everyone in top form. There seemed to be more people along the route in Kerry too.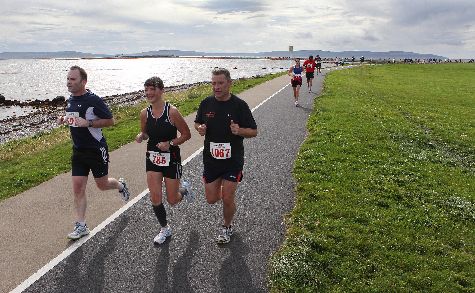 That said, the Galway bay half marathon was, to my eyes, well organised.  The race packs contained a decent running top amongst other goodies. I relished the sambo in the finish pack and it was really nice to have a coffee in the tent after finishing as the day turned inclement. The free massages in the finishing marquee were also a nice touch.
Will probably think about doing this road race again next year but will keep my fingers crossed for less wind and I'll know what to expect this time. Now I need to start some decent training as hoping to take part in the Clonakilty half marathon on December 11th. It looks to have quite a few hills on the route so will be ever so slightly more challenging.
« go back
—
keep looking »