Posted on | October 22, 2010 | No Comments
Via @sabrinadent. This looks like a fun project for kids and adults alike and its free.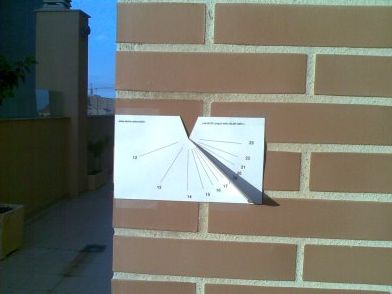 How to make your own cutout paper vertical sundial.
This page is about Sundials. Sundials are instruments that tell you the time with the shadow of the sun. To design a sundial you need to know exactly where you are going to put it, i.e. you need to know the longitude, the latitude and the orientation of the wall with respect to North.
I have designed this page and integrated Google Maps. It helps you to easily find all the parameters needed and finally produces a printable page with a cut-out paper sundial, that can be cut and folded to give you a vertical sundial.
This page allows you to make your own Cut Out Paper Vertical Sundial customized to your place on earth and the declination of the wall you are going to put it on.
All the instructions appear to be straightforward and easy to follow. Alas, we stumbled at the first hurdle as Google maps couldn't see our house. Will try it again next week when we're at a relative's house and fingers crossed it'll work.
Would love to hear if anyone else has tried it and been successful.

The DIY Paper Sundial by ManicMammy's Blog, unless otherwise expressly stated, is licensed under a Creative Commons Attribution-Noncommercial-No Derivative Works 3.0 Unported License.
Comments