Posted on | October 11, 2010 | No Comments
After the hills of Dingle, we decided our next run would be somewhere flat. A google search later, we settled on Galway bay's "fast, flat, fun and very scenic" half marathon on October 2nd.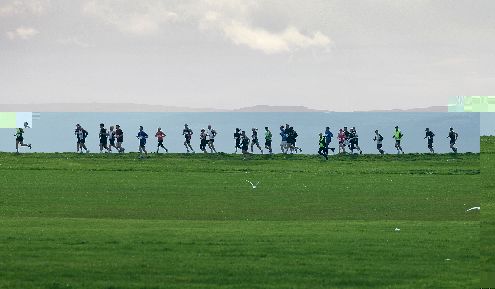 I was looking forward to this run as I thought I'd find it much easier than Dingle. However, despite completing it in a faster time, I didn't really enjoy it as much. I did like the fact that most of the route was along the salthill promenade and so close to the sea. I didn't like the full belt of the wind as we ran out the causeway. I didn't enjoy doing two laps of the same course to notch up the requisite half marathon mileage. Also I discovered that I much prefer starting a run early in the morning rather than waiting till 1pm.
I prefered the atmosphere of Dingle. I loved the music at the startline there, it got everyone in top form. There seemed to be more people along the route in Kerry too.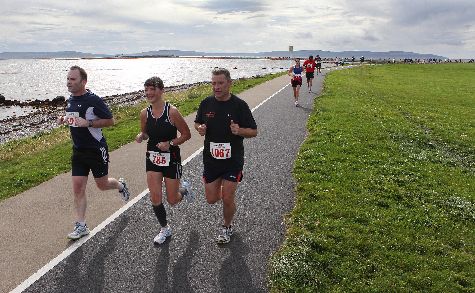 That said, the Galway bay half marathon was, to my eyes, well organised.  The race packs contained a decent running top amongst other goodies. I relished the sambo in the finish pack and it was really nice to have a coffee in the tent after finishing as the day turned inclement. The free massages in the finishing marquee were also a nice touch.
Will probably think about doing this road race again next year but will keep my fingers crossed for less wind and I'll know what to expect this time. Now I need to start some decent training as hoping to take part in the Clonakilty half marathon on December 11th. It looks to have quite a few hills on the route so will be ever so slightly more challenging.

The Galway bay half marathon by ManicMammy's Blog, unless otherwise expressly stated, is licensed under a Creative Commons Attribution-Noncommercial-No Derivative Works 3.0 Unported License.
Comments