Posted on | July 27, 2010 | No Comments
The beginning of the school summer holidays saw my middle three children eager to do something energetic. Some of their pals were doing the Bandon Athletic Club Summer Camp so that's the activity they selected.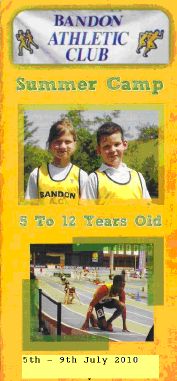 It was held in the Bandon Grammar school grounds which was great as in addition to outdoor running track and facilities, there was access to indoor halls should the weather turn inclement.
The three aged 5, 6 and 8 years old had a brilliant week. They really enjoyed the range of activities which included:
sprints
long jump
high jump
relays
javelin
hammer throw
discus
shot putt
The camp cost €65 for the first child and €50 for each subsequent sibling which I rate as good value for money. It ran from 10am to 2pm, Monday to Friday. I found it really well run. There was  plenty of supervision and coaching. Each child recieved a certificate of attendance and a medal on the last day. They were chuffed.
Would definitely recommend.
* This was Fionn's query when his older brother suggested he attend the summer camp for running training

The But how can they teach me to run faster? * by ManicMammy's Blog, unless otherwise expressly stated, is licensed under a Creative Commons Attribution-Noncommercial-No Derivative Works 3.0 Unported License.
Comments