Posted on | March 25, 2009 | No Comments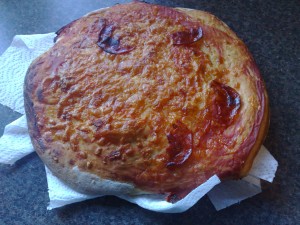 Oscar, our 9 year old completed this course last Saturday. He is interested in food and cooking and is able to make himself basics like poached eggs on toast, omelettes, smoothies etc. He loves pizza so the thought of making his own from scratch appealed to him.
He arrived home after the course chuffed with himself armed with the above pizza, some biscuits and some biscuit dough. During the afternoon, the kids had made and eaten homemade burgers which he loved though he commented that he had overdone it on the pepper.
The pizza tasted great. I was delighted he had learned how to make the dough from scratch. This will definitely have to be repeated at home where each of our kids can add their own toppings. I sampled the biscuits the next day as one of my mother's day pressies: delicious,  light and  crumbly.
Unfortunately on the day, there wasn't time to make the Banana and Pineapple smoothies, so we're hopefully going to do that recipe this weekend as Oscar also brought home a sheet with all the recipes and instructions on them.
He was slightly put out initially as he was the only boy doing the course. I was surprised at this. I thought there would be plenty of boys on the course after all aren't a fair proportion of the world's top chefs blokes?
Its a pity courses like this aren't part of the primary school curriculum. It was a joy to see him delighted having learned more skills in the kitchen and having expanded his repertoire of healthy dishes he likes and is able to cook. Oisín is now asking whether he can attend the next one!

The Yummy Pizza by ManicMammy's Blog, unless otherwise expressly stated, is licensed under a Creative Commons Attribution-Noncommercial-No Derivative Works 3.0 Unported License.
Comments